Long gone but never forgotten are the carefree student days. Being a student has always been a privilege. I had four amazing years all embraced in life at BNU. I studied Journalism (2011-15) and my experience was more than a four-year assessment of intelligence. Life at BNU is an ongoing process through which students are exposed to materials that enlighten and empower them, especially when one is living at the hostel constantly interacting with a range of people and ideas. Generally, people find the idea of living at the hostel liberating but coming from an overprotective family, I had my hesitations at first. However, today, when I look back, I treasure those memories as the most powerful things that transformed my life for better, and the greatest of them all, the incredible people I met and who became my newly found family.
To everyone, the foremost reason for going to a university appears to be for receiving an academic qualification. Personally, I believe that the social aspect of things and growing as an individual are just as important. At BNU, I found a perfect blend of both. People from diverse backgrounds and belief systems get together in line with the mainstream norms of reason and taste. Independence of mind is tolerated and a society of like-minded grownups gets created. Studying Journalism at BNU made me realize that media is a gigantic industry which amalgamates numerous branches. The breadth of this degree equips students for a very dynamic landscape. Not only did it enhance my ability to express my voice by reframing a real life event into a written anecdote, I was presented with an array of career prospects: advertising, marketing, reporting, digital media, public relations and communications. These were some of the avenues that I got immersed into during my four year stint. I was guided towards a horizon with vast possibilities to choose from. I was provided with abundant opportunities to explore and that is why I decided to pursue my Masters degree in International Business Communications.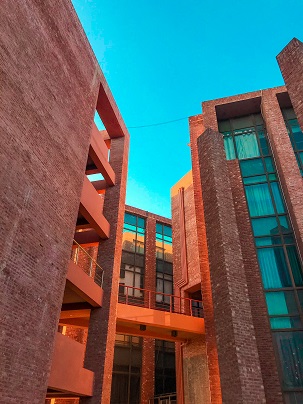 My journey as a student was quite fulfilling as I was nudged to step outside my comfort zone and to pay attention to things and phenomena around me. I arose to reflect on these with my own views and choices with the constructive critique from faculty and peers. The student community remained a central part of these experiences. Stepping into the buzzing courtyard every morning, seeing familiar faces, sharing a cuppa over the bridge were few of the significant daily rituals that I cherish.

However, joining BNU as a staff member and after a long time bidding farewell to it as a student, made me contemplate on those experiences anew. I realized that while I was focused on my personal growth, as the university presented me with a plethora of opportunities to explore aspects of my personality, I hardly acknowledged the amount of hard work put into maintaining this culture of belongingness. The ways and means by which the individuality and uniqueness of students are valued. This new revelation made me develop an appreciation of the challenges and struggles faced by the management, faculty, staff and workers to make students feel empowered to pursue their interests fueled by their passions. It's largely because of the efforts of people behind these desks, carrying the burden of such responsibilities with grace that the vital social and emotional foundation enables students to learn and grow.
As I look back to my student days, I believe I somehow missed appreciating the entourage of hardworking individuals who labor tirelessly behind the scenes. Now, I have this new sense of respect and gratefulness for our overworked and underappreciated support staff and guards who greet us every morning at the gates with warm smiles and tired eyes. These are the people who are first to arrive every morning and last to leave every night. The bottom-line is: for me life at BNU is a continuing journey of personal and professional development and its ever more helpful in broadening my perspective and understanding.